Between Valentine's Day and the Mardi Gras season, the coming days are a time of celebration and enjoying special moments with loved ones. But amid these happy times, many may not realize how their actions can impact wildlife and the environment.
Valentine's Day can be especially dangerous for orangutans. Several brands of candy and chocolate contain palm oil, and the farming of this is causing deforestation in the natural habitats of Sumatran orangutans, which are only native to Southeast Asia.
The Audubon Nature Institute, along with the Association of Zoos and Aquariums, are committed to supporting a move to sustainable palm oil, rather than an overall boycott, which could do more harm than good. International standards have been established that require sustainable palm oil to be deforestation-free, and many manufacturers, retailers and traders have expressed commitments to using only this ingredient.
"People can use Audubon's Orangutan-Friendly 2022 Valentine's Day Candy Guide and the Cheyenne Mountain Zoo's Sustainable Palm Oil Shopping app to find brands of candy that are certified orangutan-friendly," said John Fallon, Audubon Nature Institute's Director of Sustainability and Coastal Conservation Initiatives . "It's easy to find candy made with sustainable palm oil, or better yet, without palm oil at all, if you just take a moment to check the brands."
There are other steps people can take to celebrate a sustainable Valentine's Day. Homemade cards and gifts using materials you already have can mean less waste in landfills. Avoid buying trinkets, disposable gifts, plastic necklaces and other throwaway items.
Also, give live potted plants instead of cut flowers. Now cut roses in the United States are grown in South America, meaning transportation and storage have significant environmental impacts. In the US, roses are grown in climate-controlled greenhouses, which are energy intensive. One study indicated that the 100 million roses sent on a typical Valentine's Day produces 9,000 metric tons of carbon dioxide emissions.
In the New Orleans area, many people have also begun their Carnival celebrations, which will continue through Mardi Gras Day on March 1. While the Carnival season is always fun, it can have unintended consequences. Throws often wind up in the city's sewerage and drainage systems, clogging catch basins and pipes and ending up in local waterways. Damage to native greenery such as the grass on neutral grounds can result in muddy areas and impact stormwater drainage. Glitter used on throws, costumes and face paint is made up of microplastics that end up in waterways and soil and are eventually ingested by animals, including humans.
To reduce these impacts, the local 501 (c) 3 nonprofit Grounds Krewe works to promote, plan and facilitate waste prevention, recycling and sustainability at New Orleans special events.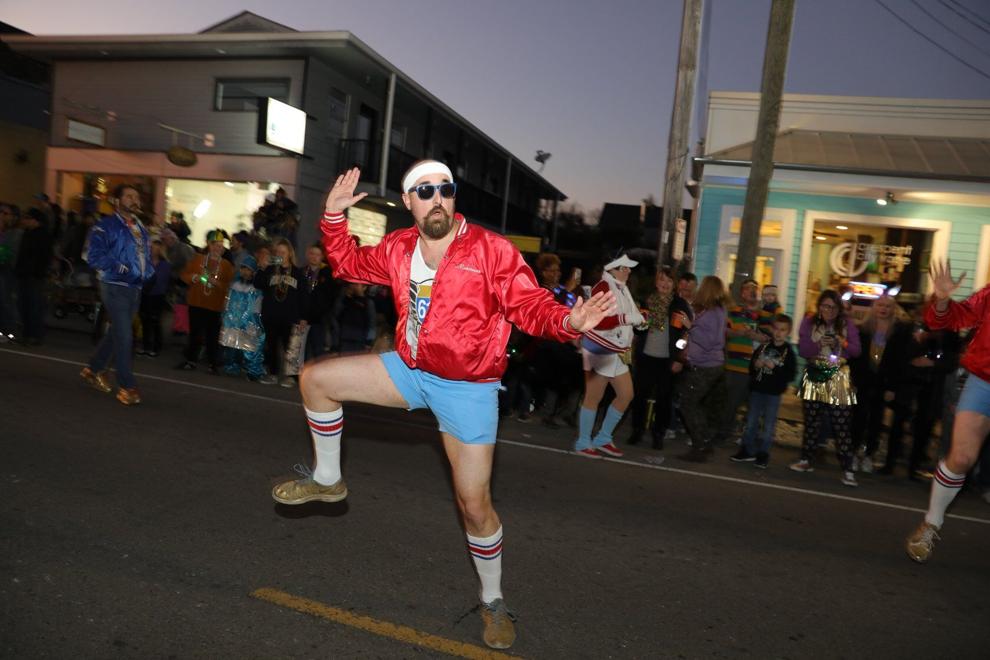 "Be on the lookout for the Grounds Krewe volunteers and recycling stations along the parade route on February 26 and 27," Fallon said. "Parade goers can pick up free throw donation or can / bottle recycling bags at one of their stations along the routes. Bags will be given out and taken in from 30 minutes before the first day parade until 30 minutes after the last day parade. "
Some suggestions for celebrating Mardi Gras sustainably include:
During parades, reuse throws from prior years or use recycled throws from retailers like the Arc of Greater New Orleans.
Don't toss your collected throws after a parade. Save them for next year, bring them to a recycling drop-off point or offer them for free online for crafters or future parade riders.
Reduce vehicle used by walking, biking or taking public transportation to parades, parties and balls. You can also use rideshares or carpools.
Pack an environmentally-friendly parade of picnics. Use reusable bottles and storage containers when possible and recyclable materials like aluminum and glass. Glass cannot be put in curbside recycling, but there are multiple glass drop-off locations in the New Orleans area.
Wear homemade costumes instead of store-bought ones. Use materials you have at home or can purchase secondhand at a thrift store. If you buy materials, try to avoid plastic and buy things you can use again.
Clean up your parade spot before you leave. Take all of your trash and have a designated bin or bag for recyclables.
Fallon noted that after Mardi Gras, people can donate unwanted beads at the Audubon Zoo and the Audubon Aquarium of the Americas. They are then brought to the Arc of Greater New Orleans for recycling. The nonprofit's Mardi Gras Recycle Center funds more than 80 jobs for people with intellectual disabilities who sort, package and resell the beads.
"When people bring their beads to Audubon for recycling, they're not only helping wildlife and nature, they're also helping our community," they said.
.