After an unusually long, cold, wet spring and early summer, followed now by very hot weather, it has been a challenging year for large numbers of trees and shrubs.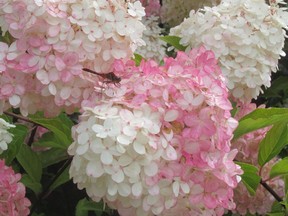 Reviews and recommendations are unbiased and products are independently selected. Postmedia may earn an affiliate commission from purchases made through links on this page.
Article content
Late August is one of the most significant transitional times in our gardens. We're in the midst of hot, humid weather which has taken a toll on many of our plants, and honestly, much of our lovely summer color is starting to look a little tired.
Article content
There are also a few issues that we need to deal with to keep our veggie patches going well into fall. Food gardens should now be in prime condition for harvesting, with tomatoes, peppers, cucumbers and squash plants ripening, and root crops, like carrots and potatoes, maturing as well.
After an unusually long, cold, wet spring and early summer, followed now by very hot weather, it has been a challenging year for large numbers of trees and shrubs. As a result, many of our plants need some attention with, perhaps, a little addition of color to elevate the beauty of our August gardens and help them transition smoothly into fall.
If your containers and hanging baskets are struggling a bit, some selective pruning of colorful annuals and vines, followed by a good feeding, can make a significant difference. Due to the heavy, constant watering that we've been doing, the nutrient levels have probably run low. If you feed your baskets and containers with something like 20-20-20 fertilizer after each watering, you will see a remarkable recovery. In addition, work a little organic matter, like Sea Soil, into your containers and top them off with some slow-release 14-14-14 fertilizer for equally dramatic results. If some of your plants have simply finished, go ahead and take them out. There is a wealth of new color just waiting to be popped in.
Article content
Late August is ornamental grass time, and these heat and drought tolerant plants are just starting to throw out their plumes. Purple fountain grass is a superstar annual, and at this time of year, its deep burgundy foliage and long flowering seed heads look magnificent bouncing gracefully in the breeze. Hardy pennisetums, like P. Hameln and P. Piglet, should also have stunning flower heads now. One of my favorites, the miscanthus family, is pluming out, and some of the more compact varieties, like M. Yaku Jima or the soon-to-turn-red foliage of M. Fire Dragon, make stunning additions to containers and garden beds .
At this time of year, local growers are showcasing beautiful fall chrysanthemums in a wide variety of sizes and colors to add a fresh aspect to our patios. Even the first fall pansies are now available to help create a cooler, fall look.
Article content
Today, we're using more and more perennials in containers. Old reliables, like rudbeckias, in all sizes and varieties, as well as the amazing new Uptick series of coreopsis, love full, hot sun and will flower well into fall. They all have that late summer/fall look to help our gardens transition into the next season.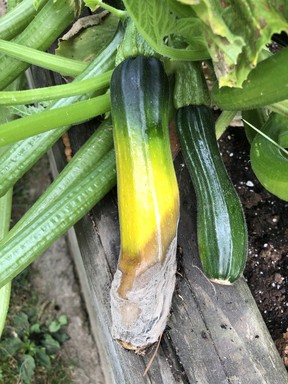 Food gardens also need a little extra attention at this time of year. Tomatoes require some special care. Mid-August brings with it the possibility of the dreaded late blight wiping out our tomato crops almost overnight. By watering in the morning, keeping tomato foliage dry and watering only the soil will help protect your plants. If you can find a way to keep any heavy rain off your tomatoes, that will also help. Potatoes, too, are very susceptible to late blight, so no overhead watering.
Article content
If you're seeing black blotches on the bottoms of your tomatoes, feed them with liquid calcium immediately or use an application of eggshell lime to help mitigate blossom end rot. Keep feeding your tomatoes with 10-15-19 fertilizer so their harvest period will continue until late September.
Only water your cucumber and squash plants in the morning and again, it is important to keep the water off the leaves. In our humid conditions, mildew can quickly smother all the foliage. Squash and pumpkin plants will pollinate and produce more fruit if they are kept on the dry side and not overwatered.
If you see white cabbage moths flitting about, you will need to apply the organic BTK bacterial spray weekly to save your brassicas from being destroyed almost overnight by their larvae.
Article content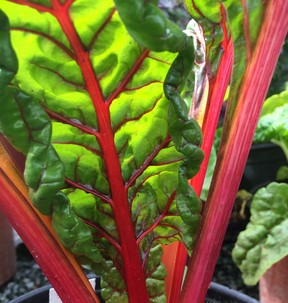 Transplants of true winter vegetables should be set out now to ensure that they all mature at their various winter harvest times. Many garden stores sell potted vegetable starters, like lettuce and swiss chard, in four-inch pots for continuous planting and a succession of garden produce well into fall.
Now is a great time to plant potted rhubarb, raspberries, blueberries and other perennial vegetables and small fruits for harvesting next year. Even potted fruit trees can be planted at this time of year.
As I mentioned, the hot weather has been challenging for many trees and shrubs, especially if you have not been able to water. If you can, a thorough, deep watering now around the driplines of all your trees and shrubs will help immediately, and a feeding of either slow-release 14-14-14 fertilizer or a flower and vegetable food, like 10-15-19 , will tone and green them up. This is especially true for trees and shrubs in containers.
Article content
Selective pruning now on all trees and shrubs to remove any dead or dry branches is a good idea. Also, any vigorous growth that distorts the shape of your plants can be pruned now. The key thing to remember is many flowering shrubs and trees have already set their buds for next year's floral displays, so don't prune back any early-flowering shrubs at this time of year for fear of removing next year's blooms. This is especially important for macrophylla or mophead hydrangeas and for lacecap varieties which are both now setting next year's blooms. Only cut out any spent blossoms.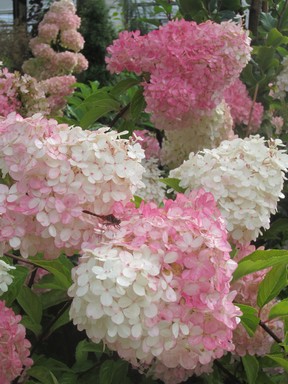 For a color boost, consider planting late flowering Peegee hydrangeas, Rose of Sharon (hibiscus), iteas (sweetspire), buddleias (butterfly bushes) and woody perennials, like caryopteris and vitex. If your home has been uncomfortably hot this summer, a right-sized shade tree, planted now, will make a difference, even next year.
Article content
Working within your local water restrictions, try to water your lawn once a week to a depth of 1.5 inches to help revive the green color. A healthy lawn cools our yards, sequesters carbon and produces oxygen. This is the best time of year to oversee with perennial rye grass or micro clover because of the overnight dew.
Fall is on the horizon, and a little garden revival now will make a huge difference in the enjoyment of your outdoor spaces over the next two to three months. Our gardens had a very late start this year, so let's compensate by making them more productive and beautiful as we move into late summer and fall.