Any flower or vegetable grown in a Prairie garden can also be grown in a pot as long as adequate water, soil and sunlight are available.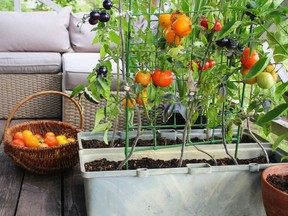 Reviews and recommendations are unbiased and products are independently selected. Postmedia may earn an affiliate commission from purchases made through links on this page.
Article content
Almost any plant can be successfully grown in a container as long as adequate water, fertility, soil, sunlight and growing conditions are available. Paved areas, decks, balconies and walls can all become an oasis of plant life with effective container use. Sometimes large trees will use all the nutrients and water in their surrounding soil, making it nearly impossible to grow any other plant nearby. Place containers with flowers or vegetables around the base trees as long as some sunlight is accessible to the plants.
Article content
Any container that can hold moist media/soil and provide drainage for excess water is a possibility. When growing vegetables or fruit, containers must be food-safe and free of contaminants. Depending on your budget, containers can be colorful clay pots or as simple as the old wooden apple crate in grandma's shed. Plastic or burlap bags filled with soil have even been good containers for a potato plant: simply dump out the bag and harvest potatoes at the end of the season.
The key to growing vegetables in pots is to provide a large enough pot for the vegetable being grown. A bunch of radishes can be seeded into a 15cm diameter dish that is only 5-8cm deep. However, this same dish would never sustain larger plants like tomato or zucchini or a root plant like a carrot. Pot size should be determined by considering recommended in-row and between-row plant spacing: plants with larger plant spacing requirements should be planted in bigger containers whereas plants that grow closer together will survive and thrive in smaller containers (ex. spinach, leaf lettuce ). Six to eight liter (1.5-2 gallon) containers are recommended for large plants like tomatoes, zucchini, cabbage, broccoli or corn.
Article content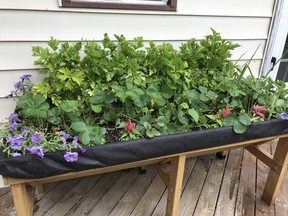 The pot must have adequate drainage (holes in the bottom). Place containers on gravel or raised off the ground with wood slats or bricks to ensure that excess water can drain freely.
Any annual flower or vegetable that can be grown in a Prairie garden can also be grown in a pot.
Perennial flowers, fruits and vegetables (ex. haskap, dwarf sour cherries, rhubarb, day lilies, delphinium) will not overwinter in pots unless they are buried up to the pot rim in the ground or stored in a heated garage over winter.
Good growing media is very important for successful containers. The growing media must be capable of holding water as well as draining. Garden soil does not drain well in pots and is not recommended for container-grown plants. Commercial media containing peat moss, vermiculite, perlite and some micronutrients are recommended. There are special soilless mixes that contain water absorbing polymers. These polymers help to attract water to the media and prevent the media from drying out. Some of these polymers are plant-based and some polymers are derived from petroleum. Instead of using media with polymers, try using an organic mulch like flax straw or post peelings on the surface of your container to reduce water loss.
Article content
Adding compost or well-rotted manure annually is a good idea for containers. One quarter to one third of the growing medium as compost should provide adequate fertility. If plants are showing signs of nutrient deficiency, provide a bi-weekly soluble fertilizer treatment of 20-20-20. Water in transplants with a 10-52-10 soluble fertilizer at the beginning of the season. Mix all fertilizers according to the label directions. To maintain a base level of fertility and organic matter in the container, replace at least one quarter of the container soil every year with compost.
The most challenging issue with growing plants in containers is maintaining adequate water and fertility management. Water pots slowly and thoroughly, until water runs out of the bottom of the pot. Keep soil moist but not waterlogged. If the weather is hot and plants are reaching maturity, expect to water your pots daily. "Self watering" pots hold a reservoir in the bottom of the pot so that watering can be ignored for a day or two. Consider installing a simple automated watering system with timers that use soaker hoses or drip emitters. Using an automated system gives one all the benefits of container gardening without the commitment of daily watering.
Article content
To make the most of your space in your vegetable pots, provide a structure for climbing and sprawling plants. Something as simple as a bamboo stake or small trellis can provide support for pea, pole bean or cucumber plants. Choose vegetable and flower cultivars that are recommended for small spaces or containers. What you can grow in a container is only limited by your imagination. Happy gardening!
Bantle is a horticulturist working in the Department of Plant Sciences at the University of Saskatchewan.
This column is provided courtesy of the Saskatchewan Perennial Society. Reach the society by email at saskperennial@hotmail.com or visit their website at saskperennial.ca. You can find them on Facebook at facebook.com/saskperennial.
Gardening: A guide to growing carrots on the Prairies

Gardening: Local experts share resources online for Saskatchewan gardeners