If you've ever wondered what the backyards of Tucson's garden experts look like, here's your chance to take a look, get some inspiration and learn from the issues they've faced.
On April 9, the Pima County Master Gardeners will be holding its 21st annual Home Garden Tour. This tour features five gardens at the homes of Master Gardeners. Each year the tour focuses on a particular part of the Tucson area; this year the featured gardens will be on the east side.
The home garden tours started in 1998, and have been mostly annual events since. Unfortunately, the last two years of tours were put on hold due to the pandemic.
Pima County Extension Office volunteer coordinator Jessica Montgomery says the gardens are a way for the public to see a variety of gardens and plants and learn about them from the master gardeners who grow them.
"You get to see it in action, and I think that's one of our biggest draws for the home garden tour… it's not just our normal [demonstration] gardens, it can be a hodgepodge, it could be anything and it gets people excited."
For a quick preview of the gardens, check out our slideshow, with photos courtesy of Master Gardener Tony Knight.
5 featured gardens have something for everyone
The Desert Oasis garden at Dave Williams' home has beautiful drought-tolerant plants around a pool, along with a veggie garden and a demonstration plot of native grasses. As an added bonus, he has highlighted five local botanists, including Sara Plummer Lemmon. Local author Wynne Brown, who wrote "The Forgotten Botanist," a biography of Lemmon, will be at the tour with her book for sale. Other featured botanists on the tour will include Josiah Gregg and Charles Christopher Parry.
Williams originally had a design created in 1998 for his backyard by a landscape architect who put in the pool, hardscaping and various plants. However, not all of it worked out, due to microclimates in Williams' yard.
"He didn't take into account that we're only 300 yards from that wash," Williams said, pointing to the wash running behind his yard. "So after the first winter, half the stuff died that he recommended, and we then had to kind of start over."
He's chosen plants that are drought-tolerant, some native, some not. "It doesn't have to be native to be useful and good," he says. He has a wide selection of cacti with spectacular blooms. He also has a small vegetable garden, which he had to redesign after a nearby mesquite's roots invaded the garden plot. He's also learned to deal with various desert critters, like pack rats and ground squirrels. Williams recommends keeping prickly pears near the house in a more upright growth habit to discourage packrats from creating burrows.
Williams also recommends thinking carefully about where you place your plants. "Think about what's going to be the size of it 10 years from now before you plant it. Choose the right plant for the right place."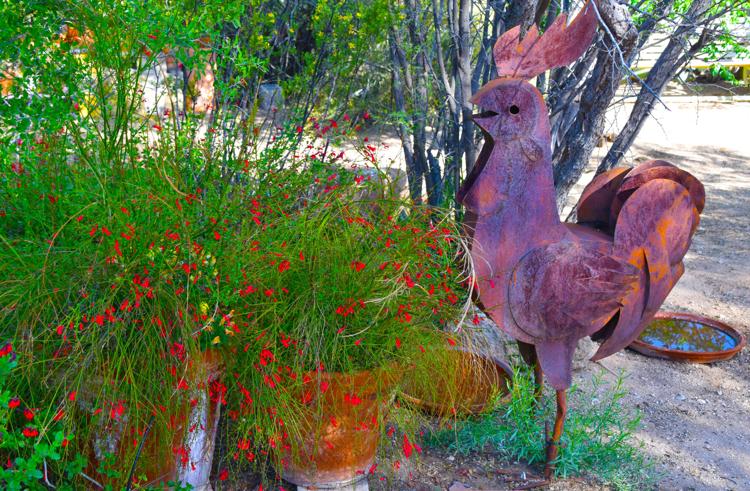 The Desert Wildlife Refuge garden will feature lots of native plants, a butterfly garden, shady paths and a patio, and lots of quirky garden design. Cactus lovers will also enjoy the many varieties on display here. The garden is sure to provide great inspiration for wildlife lovers.
Ed Gutowski's Rincon View garden is a peaceful sanctuary with breathtaking sweeping views of the Catalinas and Rincons. The theme in his garden is trees, which provide much-needed shade. There will be a tree expert on the tour to help visitors learn more about growing healthy trees in our desert.
Over the years, since buying his property in the mid 90's, Gutowski has planted around 40 trees, some of which have died due to cooler weather in the eastern part of town. He grows a mixture of native and non-native desert-adapted plants.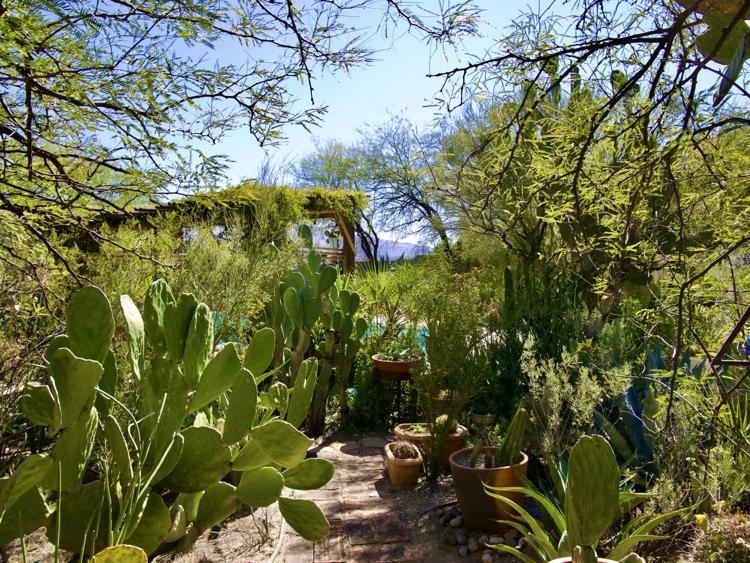 Chief issues in his garden have been ants and caliche. Coming from California, Gutowski also had problems initially getting used to gardening in the desert climate.
"I picked a lot of things that I just wouldn't manage. And for my first 13 years, I was only here four days a month, so I'd come back and they'd be fried to a crisp. So I just learned to find out more about native plants; go to the Desert Museum, the Tucson Botanical Gardens, and just start to learn."
Not surprisingly, Gutowski recommends starting your yard plan with trees, and then moving on to smaller, understory plants. He also recommends focusing on the soil before planning out your garden, and particularly knowing more about drainage and caliche in your yard.
"Get your soil analyzed. You can do it yourself, you don't need to take it to a lab. You could dig a hole and fill it with water and do the [jar] sediment body on it; get a soil probe and just sort of know what you're up against."
Chris Dickens' garden features irises, lilacs and roses, and will include Master Gardener Deborah North discussing plants for cooler microclimates. This garden not only demonstrates how to grow beautiful non-natives, it also includes many native and desert-adapted plants. It also features an impressive rainwater harvesting system, which is well worth seeing.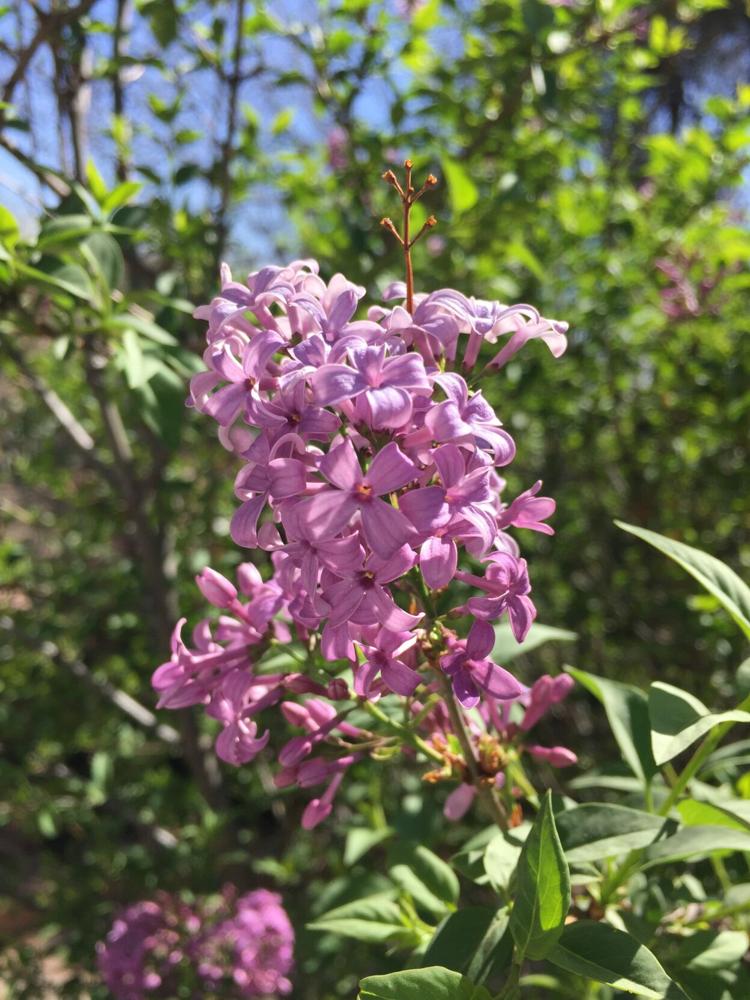 Her garden started around a common lilac bush she planted not long after moving into her property in 1986. "We designed everything around that because I didn't want to move it," Dickens says. Over the years, the hardscaping and other gardens grew around the lilac.
She began her iris garden after meeting fellow Master Gardener Diane Tweedy, who lived just down the street, and whose garden is also featured on this year's tour. Tweedy was a huge fan of irises and encouraged Dickens to grow them. Tweedy passed in 2021, and the iris garden she inspired makes Dickens think of her friend.
"We had seven or eight years to play in the garden together [before] she passed on," Dickens says of her friend. "And Diane gave me some of her irises, so it's like a memorial." Dickens says that growing irises in the desert isn't that difficult, and a bonus is that javelina don't eat them. "They might dig them up and throw up the rhizomes, but they don't kill them," she says. Another advantage is that iris varieties can be early or late-blooming. "If you plan your garden, you can have them all year round."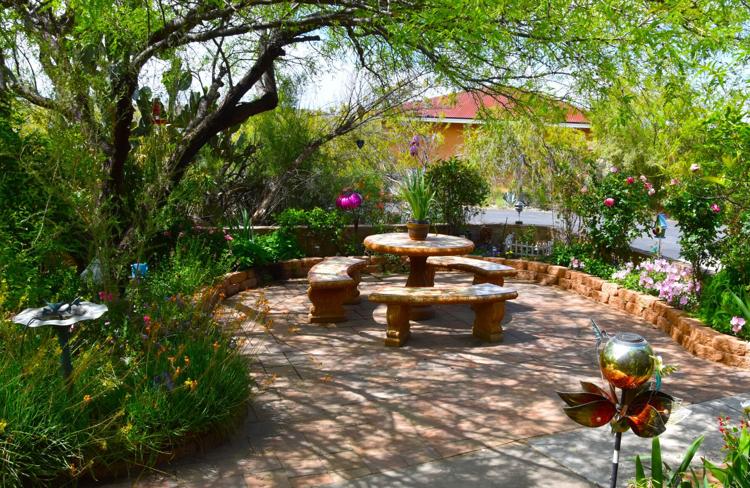 Dickens encourages gardeners to branch out a bit from native plants if they have a fondness for more exotic plants. There will be a rose expert at her garden tour to help visitors learn more about growing these classic plants in their own yards.
Tweedy's extensive iris garden is on the tour this year and is called the Desert Sanctuary. It's hosted by the garden's current owners, Tom Taylor and Amy Simonds Taylor. Tom Taylor says there are around 100 irises in the garden, and they attract masses of butterflies.
"We thought when we purchased this place and we were told that it was a butterfly garden that we might see a butterfly or two, but honest to God, every day there were a hundred butterflies, right in this little patch."
Iris experts will be on hand to explain the nuts and bolts of growing irises in our climate. In addition, the garden's beautiful grounds include numerous mesquites and a lovely patio with container plants. "I think you can grow just about anything in Tucson," says Taylor.
This year's garden tour will definitely inspire you to try.
Tickets, maps and plant lists
A lot of planning and logistics goes into each year's tour, according to Master Gardener Jeanne Crawford, who chairs the Home Garden Tour Committee. The committee has to consider parking, road access, how easy the homes are to find, and where the homes are in relation to each other, so that visitors don't have to drive across Tucson to get to the various homes. In addition, there are plant lists and labels to create, tickets to arrange, and publicity photos and brochures to make.
Plant lists for each garden, along with their needs are provided on the Home Garden Tour web page. They will also be available at each garden on the tour.
Tickets are $20 online per person, or $15 if bought in person at the following nurseries:
You can also buy tickets on the day of the tour at the Pima County Extension Office, 4210 N. Campbell Ave., or at each of the gardens on the tour for $20 per person. For more information, you can call 520-626-5161 or visit the Pima County Extension's Home Garden Tour website.
Photos: Take a peek into the backyards of Tucson's garden experts
For more gardening information and articles on gardening in the Tucson area, subscribe to the free Tucson Garden Guide newsletter!
Do you have any gardening topics you'd like to see covered in the Tucson Garden Guide? Email me at dheusinkveld@tucson.com with your suggestions and questions. Thanks for reading!