Having tomatoes much earlier in the season would be ideal and worth the effort to experiment with overwintering the plants — something I'll be doing for the first time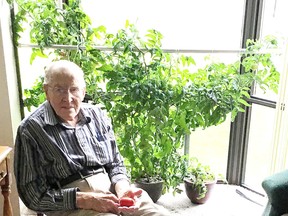 Reviews and recommendations are unbiased and products are independently selected. Postmedia may earn an affiliate commission from purchases made through links on this page.
Article content
It's at this time of the season I start receiving questions on how to overwinter a variety of plants in containers. I'm taking the initiative this time by presenting something near and dear to my heart that I'll be attempting myself for the first time — overwintering a tomato plant.
Article content
I can hear the snickering out there, and no, Filipski is not off his nut. A recent article inspired me to try and save one of my tomato children from the compost heap. As we all know, tomatoes are annuals in our part of the world but elsewhere they are perennials. It's always rather difficult to turf tomatoes after putting in all the effort to keep them happy and productive during the growing season, so an option to keep them is welcome.
Article content
Before you start getting all excited about harvesting tomatoes throughout the winter the methods described are only to allow the plants to survive the winter so when you set them out next spring, you'll have a plant with an enormous headstart on seedlings or seeds sown in the spring.
The main thing about these overwintering methods is to time the move indoors very carefully. If you wait too long the plant will probably not survive. The ideal time to aim for is approximately a month before our first fall frost.
Article content
Growing Things: It's time to start tucking plants in for winter

Growing Things: Filipski's tomato tips
Before you bring your plant indoors, check it very carefully for insects. I'd recommend giving the plant a good sharp spray with the hose to knock off any potential stowaways. The biggest thing about overwintering tomatoes is light. In our northern climate, daylight in the winter is simply not enough for the plants to thrive without an extra light source. Even if you put the plant in your sunniest window, that just won't do — you'll need to supplement it with a grow light. There are many types of LED grow lights that will work. Tomatoes are long-day plants and need 14-18 hours of light per day. A timer is also a good idea. Water the plants when the soil is dry to the touch and don't fertilize through the winter.
Article content
If bringing the full plant inside isn't feasible, another method involves cuttings. By taking tomato cuttings, rooting them and overwintering them you'll also have a good headstart come spring. Before the first frost, find a 7.5-12 cm long stem and cut it off using a sharp knife. The best place to take the cutting is from the actively growing part of the branch or terminal end. Some experts prefer to use a sucker as the cutting and that's the method I will be trying. Suckers are the shoots that grow out between the stem and a branch. With suckers, look for one that is healthy and 15-30 cm. I recommend taking three or four cuttings just in case some don't make it.
Remove all the leaves from the bottom 10 cm of the sucker cutting. Place the cuttings in a jar or container with enough water in it to cover the bottom third of the cutting and place it in a sunny window, changing the water weekly. Also, check the level daily so it doesn't drop too low.
Article content
After a few weeks, you'll start to notice white roots emerging from the cuttings and this is the time to transplant your cuttings into a pot with potting mix. Since our main concern is developing a healthy and large root system, a larger pot with a diameter of 17.5 cm would be a good choice and would save having to transplant the cuttings as they grow. You can try growing the cuttings in a sunny window, but again the short winter days might create a very spindly plant. I'm going to use grow lights for my cuttings.
Having tomatoes much earlier in the season would be ideal and worth the effort to experiment with overwintering the plants.
Learn more by emailing your questions to filipskigerald@gmail.com, reading past columns or my book Just Ask Jerry. You can also follow me on Twitter @justaskjerry01.