Opinion: Fall and winter containers are becoming very trendy, but they require careful consideration in terms of the plants we use.
Reviews and recommendations are unbiased and products are independently selected. Postmedia may earn an affiliate commission from purchases made through links on this page.
Article content
As we move into September, it's time to think about some autumn updates to our patios and balconies. Summer heat has taken its toll on many of our garden plantings, and a seasonal change in our color decor will create a fresh new look to enjoy.
Article content
Going forward, the importance of our fall patio color will be far greater than we think because our planting choices should be viable over a long period, extending well into winter. Some of the first things to look at are our containers.
Article content
Fall and winter containers are becoming very trendy, but they require careful consideration in terms of the plants we use. They need to tolerate the remaining heat of summer and fall, as well as the cold and frost of winter. Annual color plants need to be replaced with foliage color, and hopefully, some winter flowers. The best options at this time of year are evergreen perennials, broadleaf shrubs and interesting conifers. All these plants can remain together for years or they can be repurposed in our gardens come spring.
Article content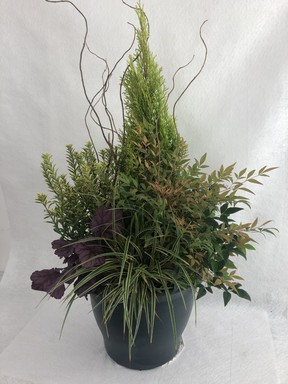 As the growth cycle comes to a close, there are a number of considerations we need to keep in mind. For the most effective presentations, plants need to be arranged close together for an instant 'finished' look that will carry the containers into late winter and even spring. Cold tolerance is one of the most important factors because you will want to ensure that your plants hold up during cold spells, and you should know which ones may require some protection during the coldest weather. That means making sure that the plants you choose are hardy for your zone and remembering that when plants are put in a container, they lose one zone of hardiness.
Due to the severe cold of last winter, many people lost container trees and plants that they had enjoyed for many years. It's important to be prepared for the worst-case scenario. If we experience cold outflow winds, it may be necessary to move your containers to a protected location, and you should have proper insulating materials, like N'Sulate fabric, on hand for a quick wraparound.
Article content
By incorporating LED lighting, our containers can be a source of brightness in the garden or on the patio. In the darkness of late fall and winter, you will be amazed how a beautiful, well-lit container or potted tree can truly transform an outdoor living space. By selecting plants with good structures, they will help provide the stability necessary to hold the lighting in place, even in windy situations. Strategically placed branches, like those of contorted willows and the colorful rich red or yellow stems of shrub dogwoods, will not only add flair but also supports for lighting. These are often the final touches that take containers to the next level.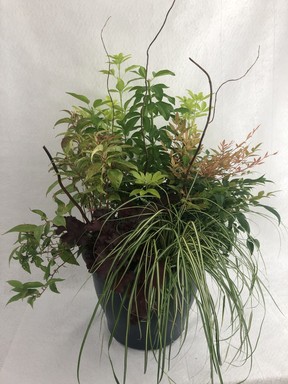 If you don't think you have the talent to create a beautiful fall container, think again. One of my favorite sayings is: 'In the garden, anyone can be an artist, without apology or explanation'. In my humble opinion, the only person who has the right to criticize the artistic endeavors in your garden is you. We, as gardeners, are the only artists working with living, growing and changing subjects. It's always a learning process, and we have the unique ability to change out or selectively prune plants to add creativity. When creating artistic garden features, I believe the principle of incorporating 'a thriller, a filler and a spiller' is a valid concept.
Article content
Begin creating your container with a taller, proportionally appropriate statement plant. Whether it's a smaller shrub, like a Japanese maple with unique stems, such as Acer palmatum Sango Kaku, a twisted, narrow Hinoki cypress, or a golden contorted willow, choose a focal point that inspires you. Once you have this keystone plant in place, the next job is to accessorize. There is a wealth of plants that will do this in spades. For the best performance, keep in mind whether your container will be situated in sun or shade and then choose your plants accordingly.
Some of my favorites are the wide range of Heavenly Bamboos (Nandinas). These Zone 6 plants have soft, flowing foliage that often turns red in winter; they play nicely with just about everything; and with the slightest breeze, they animate a container. The many new varieties of Pieris japonica are great because their flower buds open in winter, and their explosive red/bronze new growth makes a dramatic addition to late winter color. In shady locations, I love the white and green foliage of Pj Flaming Silver, with its stunning red new growth.
Article content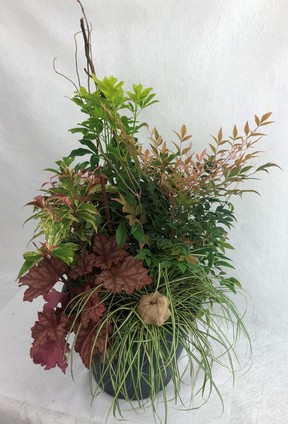 All leucothoe varieties make fantastic combination options in containers, but L. Rainbow, with its subtle variegated foliage, and L. Scarletta, with its stunning red new fall growth, are two of my favorites. Choisya Sundance (Mexican Orange Blossom), with its rich yellow leaves, is also a nice fit. The added bonus is their fragrant flowers that bloom in late March. The dwarf male Skimma rubella has rich burgundy buds that open with a nice perfume in late winter.
Berried plants, like female skimmias, pyracanthas and many cotoneasters, have wonderful berries that add another delightful feature to fall and winter containers. Grasses, too, create magic in fall planters, particularly with their flower heads at this time of year. I really like pennisetums, with their cottontail plumes, and miscanthus lasts well into late fall. Miscanthus Yaku Jima is an attractive dwarf variety, and the elegant white and green leaves of M. Morning Light add a touch of whimsy to any grouping.
Article content
Despite all the foliage color, many of us still need some floral color. Japanese anemones are just coming into flower now, and they will keep blooming well into fall. My favorite evergreen perennials are the euphorbias, such as E. Ascot Rainbow with its variegated golden foliage and the blue-green of E. Shorty for its nice texture and the vibrant chartreuse flowers it produces in late winter. Winter flowering heathers will soon be coloring up and will continue providing dark red, white or pink blooms all winter. Winter pansies, too, create a nice finishing touch of color in any container, and they bloom for ages.
Over the next few weeks, as the weather cools down a bit and summer patio color begins its downward cycle, please embrace the opportunity to create six more months of beauty to enjoy on your patio. In terms of size, at this time of year, bigger is better, and with all the rain we get, using a well-draining soil in your containers is a must. Don't forget to add value with lighting, and most importantly, remember … in the garden, anyone can be an artist.