Despite the upward battle, they are not yet ready to lose their natural trajectory to a container plant: "It's about our quality of life."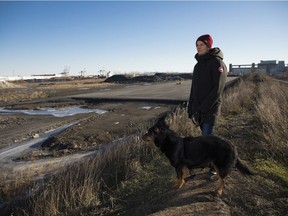 Article content
On a cool December afternoon, Cassandre Charbonneau-Jobin walks through a small wooded area at a cul-de-sac in the Hochelaga-Maisonneuve district of Montreal and clears the way of broken branches that the windstorm has hit the ground.
Ad
This ad has not yet loaded, but your article continues below.
Article content
On the other side of the forest, exiting as Boisé Vimont, he points to a long plot of land where flowering trees and vegetation grew on the abandoned railway tracks. Her dog, Mishka, jerks her leash to get rid of it.
"Even a few years ago, these trees weren't here," says Charbonneau-Jobin, who lives a few streets away. "If we left, maybe we'd clean it up a little at a time to help with it, you would have a park in years to come – it's really beautiful."
Called the Resist and Flourish Nature Park by locals, the area consists of two forests – Vimont at one end and Boisé Steinberg at the other – connected by an unused lane belonging to the National Railways of Canada.
But after years of resistance and lengthy court proceedings, much of the neighboring land is now becoming a container manufacturer. The change insisted on by the locals is the last thing the area needs and is unwilling to accept.
Ad
This ad has not yet loaded, but your article continues below.
Article content
"Progress may take a green light, but we still have to face it," says Charbonneau-Jobin, who was not intimidated by the upward struggle. "It's about our quality of life and the health of our residents."
Ray-Mont Logistics first bought the plot in 2016, hoping to relocate from the city's Pointe-St-Charles district. The company plans to build a so-called intermodal logistics platform on it, which will be used to store and transport agricultural products to the port of Montreal.
After residents attacked the project five years ago, the district initially refused to issue a building permit in 2017. However, the project has since been approved twice in court: first in 2018 and then in January last year by the Quebec Court of Appeal. The company is now suing the city for $ 373 million in damages.
Ad
This ad has not yet loaded, but your article continues below.
Article content
At a time when the plot was empty, residents were re-appropriating the surrounding space as a much-needed park, used by both young families and the elderly on a daily basis. Today, there are makeshift community gardens at one end and hand-painted boards hanging all over the area. "It's never too late to do better," reads one.
In addition to the loss of space, the biggest concern is the greater consequences of an industrial project of this size in the area. The factory could operate 24 hours a day, hold thousands of containers, and there is an estimated convoy of 100 motor cars and 40 trucks a day.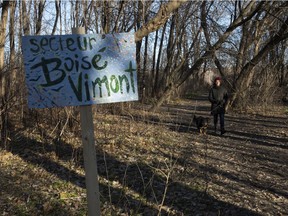 While the company is ensuring that mitigation measures are in place, locals fear an increase in vibration, dust, noise and light pollution. They warn that this would create another heat island in an area where trees and green areas are already lacking.
Ad
This ad has not yet loaded, but your article continues below.
Article content
Claudel Pétrin-Desrosiers, a general practitioner who is the head of the Association of Environmental Physicians in Quebec, began working in the area last September.
Because he thought his medical work went beyond the clinic when residents approached him last fall to take a position on the project, he felt it was up to his patients to examine it.
Pétrin-Desrosiers feels that the project fits incorrectly for several reasons, not least because of its proximity to vulnerable residents: the site in question is located near a long-term care center, right next to a series of social housing.
Greater environmental concerns also play a role, he said, questioning whether a project of this size is the right move while cities need to do everything they can to fight climate change.
Ad
This ad has not yet loaded, but your article continues below.
Article content
"People want a space where they can come together, live, play, share something, and build something as a community," Pétrin-Desrosiers said. "Something that not only responds to the needs of residents, but also improves their health and the health of the community."
Ray-Mont Logistics, who was approached about the story, said he understands that the project raises questions for residents, but disputes some of the arguments made against it.
In terms of environmental considerations, the company said it will reduce its operations to truck transport and greenhouse gas emissions in the city, as well as traffic in nearby Notre-Dame St. E., by moving closer to the Montreal port.
The company noted that it had already spent $ 15 million to disinfect the land and stopped all work on site while negotiating with the city on the best way forward. It also intends to build a green buffer zone between the site and nearby residential buildings.
Ad
This ad has not yet loaded, but your article continues below.
Article content
However, it is important for Charbonneau-Jobin to remember the broader context in which the project will take place. Residents are already being squeezed by other developments, such as the nearby boulevard extension and, to a greater extent, the REM de l'Est.
As he walked along the path near the construction of the container yard, Charbonneau-Jobin crossed with an older man who was walking his two dogs. He lives nearby, he said, where his niece takes care of him. You see him almost every day.
They are in poor health and their conversations are often limited. But you know you use space the same way many others do: escape the noise and recharge, even for a moment.
Charbonneau-Jobin asks if the project is going to come, would he still come here? And if you don't know, where else can you go in the area?
"We're afraid that's the effect."
jfeith@postmedia.com
Citizens oppose the container project in Mercier-Hochelaga-Maisonneuve

Hundreds are protesting against the container project at the eastern end of Montreal